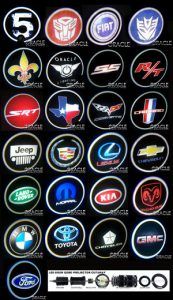 New lights which use an led and go between optics are available. We are mainly using these for puddle light applications but they could definitely be used in other applications as well. The currently available logos are in the image here. But we are not limited to those, custom logos can be integrated. To do a custom puddle light, we need a high resolution image and there is either a setup fee or a minimum order quantity.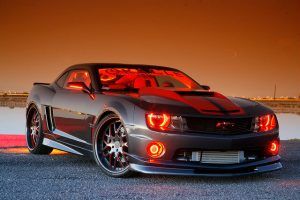 If you have ever checked out our Facebook page or flickr photostream you know that we install a ton of LED lights. We can add multiple halo LED rings to your headlights. We can also add them to fog lights. We sell one color, two color and multi-color halos.
Halos, LED strips with a wig wag controller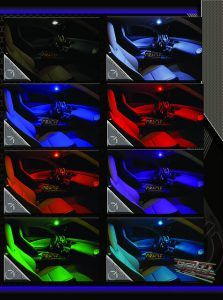 We can, and have installed LED strips under dash, under seats, in cup holders, under car, in golf carts, lighting trunks …. I have to stop there, this section started to sound like a Dr. Seuss book. Needless to say if you are thinking about lighting something up then we can help you out.