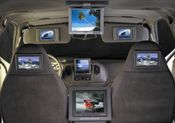 Mobile Video Equipment & Installation
Can you remember the last long trip you took in the car with the family? I can almost guarantee, it would have been much easier and more enjoyable with a mobile video system installed by Xtreme. For years, Xtreme has been making trips better, whether it is around the block or across the country. Our systems can play your favorite movies or connect to your favorite game console, such as an Xbox or Playstation.
Our main brands are rosen and power acoustik. When it comes to a mobile video solution, there are many different options. The overhead or ceiling mounted video is the most popular but there are several other possibilities. We can install an overhead dvd and lcd unit in any vehicle. Most vehicles with sun-roofs do not pose a problem.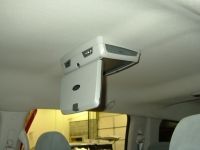 Overhead LCD with DVD
The first option would be the standard drop down monitor that mounts to the ceiling of the vehicle. We carry overhead lcd's in 9″, 11″ or 12″ size.
We carry models with interior lights for situations where the best mounting location is the same as an interior light. They also include external Audio/Video inputs which we can use to integrate an iPod/iPhone with an adapter that will also charge while playing a video on the overhead lcd. These systems are great for people that own mini-vans or SUVS. We have even installed these in sedans.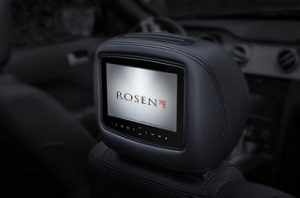 Headrest LCD with DVD
The next option would be a dual headrest set-up where the monitors are actually mounted in the head rests of the front two seats. We recommend Rosen dual dvd headrests. These are available with factory match leather and stitching.
These applications tend to be a little bit more expensive, but are available for almost any vehicle, and have added features, as well. With the headrest set-up, you can actually watch two different movies at the same time, since it uses independent DVD players. So, if you're trying to keep two people happy, these can be the perfect solution.
In-dash Video
The final option for adding a video solution to a vehicle, is the flip out or in-dash system. These units replace the factory radio and provide many more options over the factory radio. They integrate navigation, iPod hook-up, Satellite radio, plus all the standard stuff you're used to such as AM/FM radio, and CD player.
iPod/iPad Integration
With iPods/iPads and smartphones the integrations options are almost endless. We can connect your iPod to your overhead lcd and play movies stored on your iPod or iPhone. If you have an XBox or other gaming console we can help you ther too with a game port connected to your in car video system. Give us a call to discuss an option we haven't mentioned.
As always, if there are any questions, please don't hesitate to give us a call.