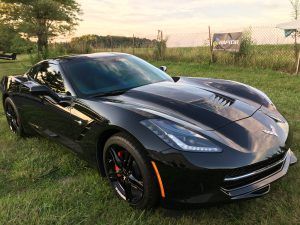 Window Tint
Xtreme Vehicle Designs' attention to detail is what separates us from the rest. With over 20 years of tinting experience, and nearly every make and model of vehicles tinted, Xtreme Vehicle Designs will get you the look that you want. We have a full time window tinter on staff. We don't sub out window tint which can be common at other shops.
We use only the finest quality window films, and stand behind them with a Warranty. All of Llumar's Formula One films are covered by a Transferable Limited Lifetime warranty. The warranty covers bubbling and pealing and we will show you how to care for your tint to ensure it lasts a long time.
The best window tint in Fishers and Noblesville! We also provide window tinting for Fishers police department and many car dealers in Fishers, Noblesville and Carmel. For customers from Indianapolis, Greenwood, Speedway etc. we have a waiting room and free wifi if you have to wait for your vehicle.
At Xtreme we use LLumar's top of the line Formula One automotive window films which are engineered to enhance your vehicle's appearance, provide the performance you demand, and protect your investment. Known for their quality, color stability, and patented scratch-resistant coating, LLumar films are durable and virtually maintenance free.
With window tint, one of the key specifications is visible light transmission or VLT. The lower percentage of VLT the darker the tint will be. 15% means the film blocks 85% of visible light.
We stock 4 different LLumar models-
Nano-Ceramic Air 80 available in 80%
Formula One Stratos Ceramic Hybrid Matrix Ceramic film available in 15% and 30%
Formula One Pinnacle Ceramic film available in 15%, 30% and 50%
Formula One Classic film available in 5%, 15% ,and 35%
Air 80
This is a special nano-ceramic film intended for two main uses. It is great if you want to do your entire windshield and still be legal. It also works very well on suv or minvan window which come from the factory with tinted windows which provide no uv or infrared protection. The Air 80 can be added to add uv and infrared protection with only a small visible light decrease. Even though the film is light it also provides a high level of anti-glare capability. Check out our windshield page for more details.
Stratos Formula One Ceramic Film
Highest level of UV, infrared and total solar energy rejection. (Keeps your car cool.)
No impact to cell phone signals.
Will never fade.
Matches factory window tint in most vehicles.
Scratch Resistant coating
Blocks over 99% of harmful UV rays
Transferable Limited Lifetime Warranty
Pinnacle Formula One Ceramic Film
Higher UV and infrared rejection to keep your vehicle cooler than comparable films
No impact to cell phone signals.
Matches factory window tint in most vehicles.
Scratch Resistant coating
Blocks over 99% of harmful UV rays
Transferable Limited Lifetime Warranty
Classic Formula One Film
Scratch Resistant coating
The premium line also has UV stable dye so it will not fade over time
High quality Llumar construction
Blocks over 99% of harmful UV rays
Transferable Limited Lifetime Warranty
Visible Light Transmission VLT
Ceramic Pro "Rain" Hydrophobic Window Coating
While your vehicle is in for window tint you may want to consider having us apply Rain to your windshield. As a dealer we see the benefits first hand. Ceramic Pro Rain coating improves your ability to see clearly and drive safer.
Remarkably improves vision in the rain.
Causes rain to bead up and roll right off.
Makes it easier to clear ice, snow, and even dirt and bugs.
Reduces glare in the rain, especially at night.
1 year warranty
Prices starting at $180.00
There is no job too small or too large. For a quote on your vehicle, or to schedule an appointment call today.

Control Heat, UV & Glare
Uncomfortable heat, distracting glare, and faded interiors can ruin any road trip. LLumar solar control film will keep your car's interior cool and comfortable.

Protect What Matters Most
LLumar safety and security film holds shattered glass in place – reducing the likelihood of personal injury in an accident and deterring smash and grab theft.

Enhance Style & Appearance
Look cool and feel even cooler with custom tinted windows featuring superior-quality LLumar window film.