Our factory trained technicians spray LINE-X bedliner at 160 degrees and at 2,000 psi. This allows us to spray side walls just as evenly and reliably as the bottom of the bed. Throughout the spraying process we measure the thickness to ensure that our LINE-X is sprayed to between 90 and 120 mils thick.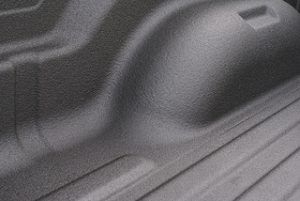 LINE-X spray in bed liner options.
Under rail – sprayed underneath the bed rail
Over rail – sprayed on top of the bed rail with a nice smooth line
Premium top coat – eliminates uv fade and makes the liner much easier to clean
LINE-X PLATINUM – 300% tougher and uv resistant
LINE-X Premium coating keeps your bed liner looking new for years to come. Premium is sprayed on top of our base LINE-X to add additional durability and UV protection to your bedliner. Premium also makes cleaning your bed liner much easier. Just spray out your bed and your LINE-X is looking like new.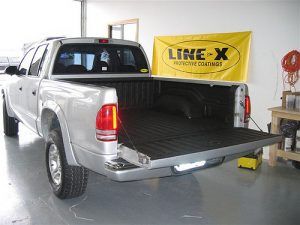 Under Rail
LINE-X is sprayed under the bed rail but the rail in front of the cab is covered for protection.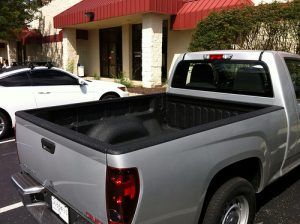 Over Rail
Notice the clean lines on the edge of the LINE-X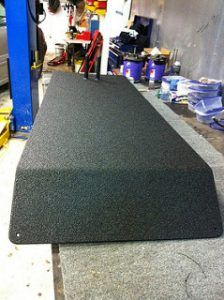 If you have an existing bedliner we can fix it. We use a product called LINE-X renew which cleans and preps the existing liner allowing for good adhesion and LINE-X quality protection. In this video you can see us preparing a bed that had an existing liner from a competitor product.
Every LINE-X Spray-On Truck Bedliner comes standard with a Nationwide Lifetime Warranty that's valid at any of our 400+ LINE-X locations. A LINE-X Spray-On Truck Bedliner is guaranteed not to crack, bubble or flake for as long as you own your truck. So, no matter how tough the daily wear and tear you put your bedliner through, LINE-X has you covered. It is what we call serious protection.
All systems utilize a two-component, spray-in-place, 100% solids (no air pollution), thermoplastic polyurethane and polyurea.
LINE-X Protective Coatings (LINE-X.com) is the nation's leading developer and provider of high performance protective coatings offering scientifically formulated polymers that permanently bond to a wide range of surfaces for unmatched durability. LINE-X products are utilized in automotive, commercial, light industrial, heavy industrial, agricultural, military, marine and custom applications.