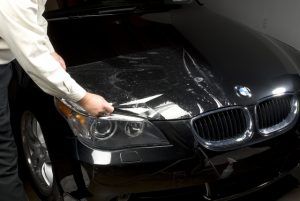 Our Paint Protection Film can be applied to hoods, fenders, grilles, mirrors, rocker panels or basically any painted metal surface. Once applied it is virtually invisible all while offering top level protection for you paint from gravel, bugs and other road debris
Here at Xtreme we only use Valor Self Healing and Hydrophobic film from Llumar. Valor is a high end film and that means a high end limited 12 year warranty. We only recommend film that has been top coated. This top coat helps to protect the film from sun and debris and makes it easier to clean.
Xtreme Vehicle Designs is one of the few shops with a vehicle film expert on staff full time. This allows us to provide not only the highest quality window tint but also allows us to apply other film based products such as clear paint protection.
A full bumper and hood kit can get a little expensive but still cheaper than a quality repaint job. With the material, cut for the vehicle combined with 5 to 6 hours of labor it is not a small job. However, a custom hood kit can be a more reasonable option. We can get you into a partial hood only installed for a fraction of the price of a full front end kit. This is the area that seems to get the most damage from rocks and other road debris. This is a small expense compared to the value. We recommend hood paint protection for new and used cars.
We also offer a matte film which has less shine and is a good fit for the matte paint jobs on newer vehicles.